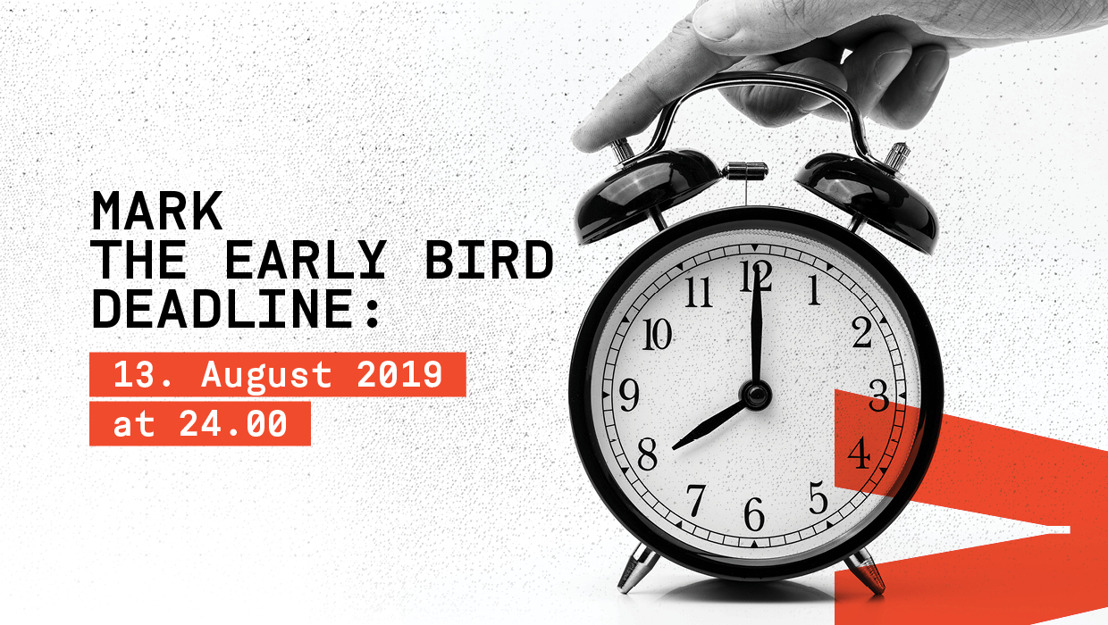 The 26th Golden Drum Festival announces first program schedule
The 26th International Festival of Creativity Golden Drum, taking place in Portorož, Slovenia, 17-18 October 2019, has revealed its first program schedule, which will be led by the slogan "Creativity 4 Change". Entrants have 8 days left to participate in the official competition of the Festival, which is also part of the WARC Ranking, and register taking advantage of the Early Bird offer; the deadline for both being 13 August. Young Creatives have a bit more than a month to decide to address the brief "Slovenia, land of clean and healthy waters", which is open until 10 September.
With small changes in the length of the programme and faster and more dynamic formats of the talks, Golden Drum brings the festival programme closer to those who consider time a rare commodity. Over two days the Golden Drums stages will welcome around 40 international speakers who will talk about actions that drive positive change in different fields and will be turning our focus to advertising for the better of tomorrow.
The keynote speaker of the 26th Golden Drum Festival is one of the most published philosophers of the early 21st century, Slavoj Žižek, where the line-up of speakers joining him, is extraordinary.
Drummers will have the chance to listen to Andrea Henao, Managing Director of 360 Agency Berlin and 360 Agency Europe, the first ever-sustainable advertising agency in the world, promoting exclusively sustainable brands across the globe. Dawid Szczepaniak, Executive Creative Director & Partner and Art Director at VMLY&R Poland, Ewelina Wojtyczka will be presenting the Glass Lion vivid example of culture-shifting creativity campaign "The Last Ever Issue".
Among other exceptional agency professionals: Andre Felix, Executive Creative Director at Wunderman Thompson in Lisbon, will talk about phygital, the intertwined virtual and literal in the minds and everyday life's of people and how can we use it to connect the online and offline worlds and create closer and more efficient human customer experience. Luis Castillo, Co-Founder & Chief Executive Officer at NeuroDigital Technologies in Spain has with his company launched products as Gloveone and Avatar VR, and is now leading the revolution of tactile VR, as we could also see in the multiple awarded case Touching Masterpieces". Krešimir Macan, Communication Consultant and Manjgura Agency Owner, a respected Croatian communication and business consultant is specialized in crisis management, strategic communication in politics and social media, and will explain why public relations are so cool, where is its place in the digitized present and future, and why it might be more influential and creative than ever. Shailin Dhar, the "Fraud Crusader" Chief Executive Officer and Co-founder and Kirsten Jamieson, Director of Client Operations at Method Media Intelligence in USA are working on emphasizing the importance of standardization and transparency in advertising and will tackle the question of solving ad fraud.
On creative brands: Evgeniya Chernetskaya, Chief Marketing Officer at Microsoft Multi-Country for CEE and Central Asia is leading a team of marketers through the radically changing marketing environment in a digital transformation era. She cooperates with She Exports Program in Ukraine for Sustainable Development and promotes nationally women's leadership in driving economic growth principles, established by UN and WTO. Jeannette Liendo, Senior Vice President, Marketing and Communications for Mastercard leads Brand, Consumer and Business to Business Marketing for Mastercard throughout Europe, focusing on delivering integrated and experiential marketing solutions that drive the business, enhance reputation and shape the industry across all audiences.
Creativity is in its essence a very wide topic: Michał Marczak, Sundance Film Festival awarded Director from Poland has worked together with brands as Sprite, Ikea, Johnnie Walker and Coca-Cola, as well as with musicians as Tom Yorke and Radiohead, where he was for his last film »All these sleepless nights« awarded on the Sundance Film Festival. With Anna Różalska, Co-founder and Chief Executive Director at Polish Match&Spark, he will talk about his experience with film, music video and ad industry, spiced up with anecdotes of working with big names.
Scientist's point of view: Professor Bogdan Draganski, Lausanne University Hospital and Director, Neuroimaging Lab LREN, Lausanne University in Switzerland works in the field of brain health and disease with emphasis on the identification of imaging biomarkers in brain disorders as an aid to the development of new therapeutic approaches in dementia. In his talk, Bogdan will focus on the existing knowledge aiming to explain creativity from neuro-scientific point of view.

See the 26th Golden Drum Festival speaker's line-up here.
Calling Young Drummers
The Slovenian Tourist Board and Golden Drum Festival invite Young Drummers to join the traditional Young Drummers Competition for the best and most creative poster on the topic "Slovenia, land of clean and healthy waters." The author of the best poster or a series of posters will be awarded a EUR 3.000 prize. Creatives under 30 from 57 countries will be able to apply until 10th September 2019 at 24.00.
Entries made by Young Drummers will be judged by a five-member jury under the leadership of David Rolfe, Executive Vice President, and Director of Integrated Production at BBDO in New York, USA. Joining him: Boogie, photographer, Serbia/USA, Martin Ježek, Head of Data, Strategy & Creative, MSL Kindred, Czech Republic, Milka Pogliani, Creative Consultant and Adviser and former Chairwoman of the European Creative Council EMEA, Chairwoman and Executive Creative Director, McCann Worldgroup, Italy, and Ana Savšek, Content Marketing Manager, Slovenian Tourist Board.
KEY DATES TO REMEMBER
DEADLINE FOR ENTRY SUBMISSION: 13 August 2019 at 24.00
DEADLINE FOR YOUNG DRUMMERS COMPETITION ENTRY SUBMISSION: 10 September 2019 at 24.00
EARLY BIRD FOR DELEGATE REGISTRATION: 13 August 2019 until 24.00
SHORT-LISTS ANNOUNCED: Wednesday, 16 October 2019 during the day
GOLDEN DRUM GALA AWARD CEREMONY: Friday, 18 October 2019, at 20.30
THE 26TH GOLDEN DRUM FESTIVAL: 17-18 October 2019

More about the Golden Drum Festival at www.goldendrum.com
See the first program schedule at: https://goldendrum.com/program/thursday
Check out the Entry handbook at https://goldendrum.com/wp-content/uploads/2019/06/26_Golden_Drum_EntryHandbook.pdf
Access the entry and registrations system at https://engine.goldendrum.com
Registration for media accreditation at https://engine.goldendrum.com/accreditation
Media kit available at https://goldendrum.com/inc/uploads/2019/06/26GD_MediaKit.pdf
Media materials for download at https://goldendrum.com/press/media-materials
About Golden Drum
The Golden Drum Festival was born in 1993 with a simple idea of bringing together creatives from different, back then often defined as New European countries. The Festival celebrates genius loci, the spirit of the place, as well as overall excellence of creativity. It wants to inspire and empower creative thinking and action for positive change in many different ways, shining a light on it through its competition and congress program. With the slogan Creativity 4 Change Golden Drum is turning the focus to advertising for the better of tomorrow. The Golden Drum Festival was chosen as one of the eight regional award shows included into WARC Rankings.
About MSL
MSL is Publicis Groupe's public relations and integrated communications network – one of the world's largest. It provides strategic counsel and creative thinking while championing its clients' interests through fearless and insightful campaigns that engage multiple perspectives and holistic thinking to build influence and deliver impact. With more than 3,100 people across more than 107 offices worldwide, MSL is one of the largest PR networks in Europe and also the fastest growing network in China and India.