GWI partners with Publicis Groupe to provide Bulgarian audience insights
As of May 23rd, GWI's Core study will feature data for Bulgaria. The leading audience insights company for the global marketing industry, which already operates in 52 countries, is entering Bulgaria in cooperation with the communications group Publicis Groupe.
The study maps consumer behaviour, now in 52 countries, with an annual sample approaching 1 million respondents. It covers a wide range of topics from media consumption to lifestyle, online behaviour to brand research and purchasing behaviour. In Bulgaria, GWI in partnership with Publicis Groupe Bulgaria will track a sample of 5,000 respondents from the internet-using population through online questionnaires on an annual basis. The set of questions asked is the same as in the rest of the world, differing only in the listing of specific local brands and services in each segment. The initial round of data collection took place in the first quarter of this year, and the data from it is available as of May 23rd, both in GWI's online platform and in Publicis Groupe's planning tools. Data segments that will be covered for Bulgaria vary from population demographics, attitudes and interests, to sport and exercise, lifestyle, purchase behavior, work and profession, social media and online activities, gaming, technology and devices, and media consumption.
The GWI study is specific in its consistent methodology and question structure. It offers the possibility of comparing data across markets from Germany, Romania, Czech Republic, Hungary, Poland and Austria to France, USA and China. Thanks to the quarterly frequency of data collection, it's flexible in its response to current market changes. Other benefits of the study include the ease of data visualisation offered by GWI's online platform and the ability to link it to commonly used tools.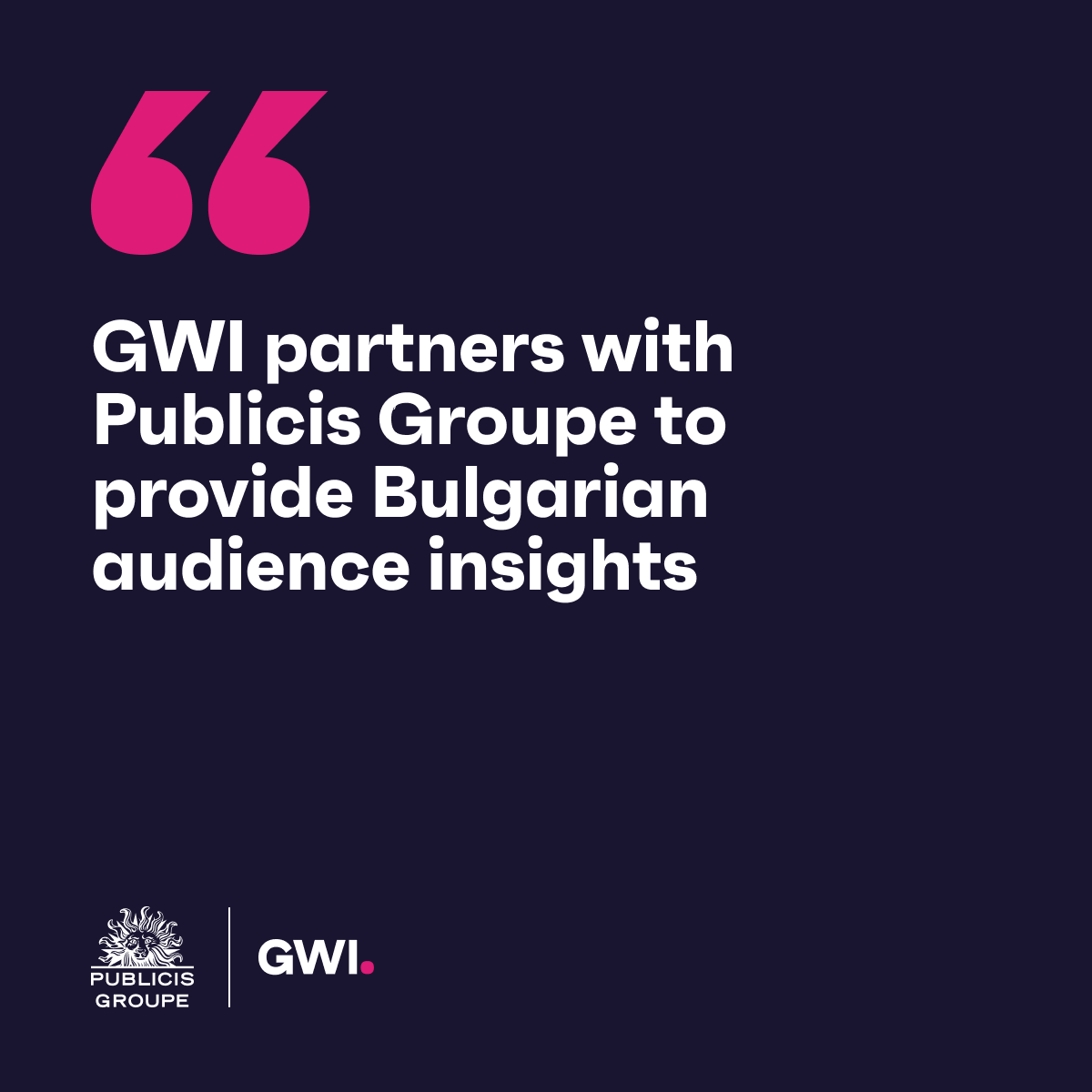 Chief Research Officer, Jason Mander, comments: "GWI exists to help people gain a deep understanding of their audiences at speed - both at a local level and globally. This is why we're delighted to add Bulgaria as our 51st market and work with our trusted, and long standing partner, Publicis Groupe, to deliver data that is highly relevant for the Bulgarian market".
GWI enters Bulgaria in cooperation with Publicis Groupe, a communications group, which participated as a project partner in the localisation of the study for the local market.
"Valuable insights and precise data from the GWI study offers a vital new perspective on the consumers in Bulgaria. In addition, it will source our global strategic tools with local insights and will provide us and our clients with deep knowledge for local consumers in many different areas such as shopping habits, consumption patterns across different categories and brands, media consumption, or online behaviour. Based on these data we will be able to track changes on a quarterly basis, as well as to get comparable cross-country picture for given audiences. I am looking forward to understand how different is Gen Z in Bulgaria compared to Eastern and Western European market and how it evolves over time in terms of media habits," said Dessislava Stoyanova, Chief of Media Business and Chief Operating Officer at Publicis Groupe Bulgaria.
About GWI:
GWI GWI is an audience insights technology company. Its SaaS platform and custom data products are trusted by the world's biggest brands, media organizations, and agencies on a daily basis to gain a deep understanding of their audiences at speed.
The company's flagship survey represents 2.7 billion people globally. Through a combination of survey data and analytics, clients can gather in-depth insights into behaviors, attitudes, and interests from rich data sets including GWI Kids, GWI Sports, GWI USA, GWI Gaming, GWI Travel and GWI Work.
About Publicis Groupe – The Power of One
Publicis Groupe [Euronext Paris FR0000130577, CAC 40] is a global leader in communication. The Groupe is positioned at every step of the value chain, from consulting to execution, combining marketing transformation and digital business transformation. Publicis Groupe is a privileged partner in its clients' transformation to enhance personalization at scale. The Groupe relies on 10 expertise concentrated within four main activities: communication, media, data, and technology. Through a unified and fluid organization, its clients have facilitated access to all its expertise in every market. Present in over 100 countries, Publicis Groupe employs around 98,000 professionals.
www.publicisgroupe.com | Twitter: @PublicisGroupe | Facebook | LinkedIn | YouTube | Viva la Difference!
Iva Grigorova Managing Director, MSL Sofia